[Lecture] Yogi's Nutrition by YeongLee Chong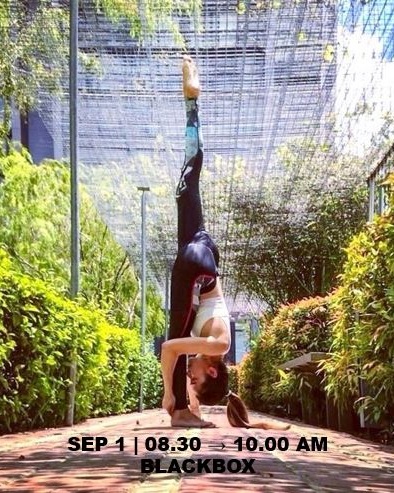 [Lecture] Yogi's Nutrition by YeongLee Chong
SEP 1 | 8.30 → 10.00 AM | BLACKBOX

Do you sometime feel sluggish or sleepy after lunch? Growing heavier over the years? Not sure how to eat to enhance your energy level, get stronger, feel lighter and alert at the same time? Wondering what and how much to eat before or after yoga practice?
This 90 mins session "Yogi's Nutrition" will discuss about how we eat to meet individual needs while benefiting physical performance and cultivating mental clarity.
Yogis believe food is the creator of life force and it brings vitality and health. The food we eat are inherently affecting us physically but it also intrinsically affects our mind. A good yogic diet should keep our body lean and limber while sharpening and keeping our mind clear. It should be practical and simple to suit different individuals and lifestyle needs. Just as every person is different, every day is different for every individual too. How you feel towards what you eat when you are physically active differs from when you are not moving as much. How the body reacts to different foods at your 20s might be completely different when you are in your 50s.
Come explore how we can build a good relationship with food, incorporate mindful eating with the principles of Ayurveda and integrate the western nutrition approach to live a balanced lifestyle that brings lightness, energy, alertness and happiness to your life.

[RM1 from each ticket purchase will be donated to charity organisations which are supporting the welfare of 5 Key Areas : Children, Women, Education, Environmental and Wildlife Conservation via Pledge A Ringgit]
sold out
Every ticket comes with a goodie bag
• Yoga studio promotions (Free trials, discounts, etc.)
• Samples by booth vendors
The space will be secured for you
This spot will be specially and automatically reserved for you.
Remember to bring your favourite mat!
Yoga mats are not provided at the event, so do remember to bring a mat along with you when you come.
Ticket Validity
Please redeem your SINGLE WORKSHOP PASS 1 hour before your selected workshop. UNLIMITED 1-DAY PASSES and SINGLE WORKSHOP PASSES are also available
Do I need a Paypal account to purchase tickets?
Nope, you do not. Just select "Pay with Debit or Credit Card." to proceed to final checkout stage to make your payment. But you're required to fill in all information accurately and carefully; follow the instructions shown.
Is it easier to have a Paypal account to make a payment?
You can easily register for a Paypal account when you buy your tickets. Having a Paypal account makes it easier to track your transactions.
Oh snap! Your credit/debit card did not go through via Paypal
Every bank has their own security terms. To unblock Paypal, please contact your bank to use Paypal with your card to make your payment. Then try submitting the payment again.
Still facing an issue paying through Paypal?
Don't worry, contact us here and we'll do what we can to help.
Ticketing Terms & Conditions
Please read carefully and understand the following terms and conditions when purchasing your Organic Life KL tickets. By purchasing these tickets, you accept the following terms and conditions:
Attend In Good Health
The Ticket Holder declares that he/she will not attend unless he/she is in good health on the day(s) of the event and accept that he/she attends at his/her own risk. The Ticket Holder voluntarily assumes all risks and danger incidental to the event whether occurring prior to, during or subsequent to the actual event, including any death, personal injury, loss, damage or liability (save where such death or personal injury was caused by the negligence of the organising team).
Be Responsible For Your Own Self
Organic Life KL and its representatives will not be liable for any loss or damage to the personal belongings and items of Ticket Holders, which may arise in the consequence of Ticket Holder's participation or attendance in Organic Life KL.
Refund and Transfer Policy
Ticket refunds are only applicable in the unlikely event of cancellation due to natural causes beyond the organiser's control (ex: inclement weather).
Tickets purchased from our website are non-transferable and names cannot be changed. This is to protect our customers against ticket fraud.
No Replacement For Lost Tickets
Physical tickets will be handed out to Ticket Holders on event day. When you receive your physical ticket(s), please keep them in a safe place. Organic Life KL and its representatives will not be responsible for any tickets that are lost, damaged or stolen.
Programmes and Timing May Change
The organiser may withdraw or substitute the programme line-up and change event time without prior notice.
Grant of Rights
Organic Life KL may use the Ticket Holder's image or likeness in any live or recorded video display, photograph, picture or publicity material or website for marketing purposes including sending promotional emails to ticket holders.